Sheffield's Olympic legacy
Plus, the rest of our weekly briefing
Good morning readers — and welcome to this week's Tribune briefing.
Today we celebrate Sheffield's starring role in Team GB's Olympic success, and look at one of the key reasons behind it.
We got an amazing reaction to our weekend read about homeless people in the criminal justice system in Sheffield — and 11 new members signed up straight after reading it. A warm welcome to all of them. One reader said it was the best piece of local journalism he'd read in years. You can still read that piece here.
'Ban him from going down Ecclesall Road at all', by
@sheffieldtrib
sheffieldtribune.co.uk/p/ban-him-from…
Wonderful piece by Dan Hayes in the new Sheffield Tribune.
#sheffield
#sheffieldissuper
#sheffieldtrib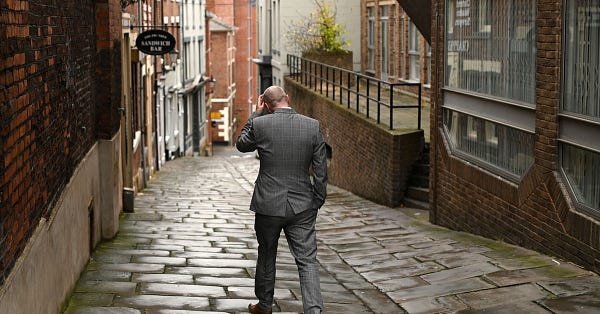 'Ban him from going down Ecclesall Road at all'
A day inside Sheffield Magistrates' Court
sheffieldtribune.co.uk
Last week we sent our 333 members a moving story about a Parson Cross woman who cares for her disabled husband and an in-depth explainer about Sheffield's notoriously poor rail connections and whether huge promised investment is on the way.
This week we'll have two more great members-only stories. To get those stories in your inbox, join up now with the button below. It costs less than £1.50 a week if you join for a year (£70).
---
This week's weather
---
The big story: Sheffield's Olympic legacy
Top line: As the curtain fell yesterday on yet another hugely successful Olympic Games for Team GB, Sheffield too was once again basking in the glory of its home-grown athletes.
Sheffield-based trampolinist Bryony Page won herself a bronze medal in Tokyo to add to her silver from Rio 2016.

Gold medal-winning Galal Yafai and Lauren Price were two of six podium finishes for the Sheffield-based GB boxing setup.

City-based climber Shauna Coxsey competed in the sport's very first outing as an Olympic sport, finishing a creditable tenth.
Paralympics to come: As well as Olympians Sheffield is also home to several GB Paralympic teams. These include British Wheelchair Basketball and British Para Table Tennis. The Tokyo Paralympic Games begin on August 24.
London legacy: A large part of the city's recent sporting success is down to the 35-acre Olympic Legacy Park in Attercliffe. The site is the only sports facility outside London to carry the Olympic branding and was built as part of the London 2012 Games' legacy programme for UK sport.
The OLP: In 2014, former Sheffield MP and Sports Minister Richard Caborn unveiled plans to build the OLP on the site of the former Don Valley Stadium in Attercliffe. This was to host elite sports and grassroots facilities as well as health research.
Elite sport: The English Institute for Sport Sheffield (EISS) has trained world champions such as heptathlete Jessica Ennis-Hill, boxer Anthony Joshua, squash player Nick Matthew and para table tennis star Will Bayley.

Grassroots: Two schools already benefit from the facilities at the site, while the park includes a 100m track, run routes, cycle routes, cricket pitch and open green spaces which are accessible at all times.

Research: The park also contains several research centres including Sheffield Hallam University's Advanced Wellbeing Research Centre and National Centre of Excellence for Food Engineering.
Economic boost: It was also hoped the OLP would also secure the economic regeneration of the wider Attercliffe area. And while glistening new builds have changed the character of the area around the OLP, these benefits have yet to reach Attercliffe high street. However, developer David Slater has hailed the closure of the area's notorious sex shops as a sign a new Attercliffe is being born.
The future: Earlier this year, the OLP unveiled £250m plans to build a new stadium, arena, office blocks and child health technology centre. This will include:
A 3,900 capacity stadium which will become the new home of the Sheffield Eagles Rugby League team.

A new £5m three-court basketball arena which will become the new home of Sheffield Sharks basketball team.
Analysis: When a Sheffield City Council battling austerity voted to close Don Valley Stadium in 2013, many said it sounded the death knell for the city's proud sporting tradition. It might have taken them longer than they hoped but a diverse partnership of public and private sector organisations have created a sporting powerhouse in Sheffield that looks set to get even better in the years to come.
---
Covid-19 update
Cases: Sheffield currently has one of the highest Covid rates in the country. The overall case rate — the number of positive cases per 100,000 people over seven days — is 492.5, up 19.7% or 478 cases on seven days ago. But that doesn't tell the full story.
In three areas of Sheffield (Malin Bridge & Wisewood, Hillsborough, Owlerton & Wadsley Bridge and Broomhill & Lower Crookesmoor) the case rate is above 800 and in one (Springvale and Steel Bank), above 900.

The England average is 283.9. Sheffield's director of public health Greg Fell said last week that there had been a spike in cases after the Tramlines music festival but that he didn't think it was wrong to let the test event go ahead.
Hospitals: 78 patients are currently being treated for Covid-19 in Sheffield's hospitals, a rise of eight from last week. 10 of these patients are on ventilation, a rise of three from seven days ago. At least four deaths linked to the virus have taken place in Sheffield's hospitals over the last week. While hospitalisations and deaths are at their highest levels since the early spring, they are still well below the January peak.
Vaccines: An astonishing 688,881 vaccines have now been given out in Sheffield, including 382,009 first doses and 306,872 second doses. However, more than 40% of those under 30 are still unvaccinated, and only around half of those aged 30-34 have had both. The highest rates of Covid in Sheffield are among the younger, unvaccinated population. These people are less likely to get seriously ill but can still get so-called "long Covid" and also spread the virus to others.
---
Leah's Yard plans submitted
News just in that a planning application has been submitted for the listed Leah's Yard building on Cambridge Street in Sheffield city centre. The renovation of the former little mesters' workshop is part of the wider Heart of the City II development that is currently taking place in the area.
The new Leah's Yard will be a hub for independent businesses — including retail, food and drink and makers studios — and will be run by Tom Wolfenden (Sheffield Technology Parks) and James O'Hara (bars such as Public, Great Gatsby and Picture House Social).
If the application is approved, construction work is expected to begin later this year with a target completion and public opening date of Christmas 2022. Council leader Terry Fox said it would deliver something "truly transformational" to the city centre.
---
Our favourite reads
---
Remembering "Fatty" Foulke
Football is back and it was brilliant to see so many United fans on their way to Bramall Lane on Saturday evening. Coincidentally we saw this picture on Twitter last week and couldn't not share it. The photo shows William Henry "Fatty" Foulke, who played in goal for the Blades between 1894 and 1905. Foulke was 6'9" tall and reportedly weighed 24 stones at the end of his career. He later played for Chelsea and Bradford City and also represented Derbyshire and England at cricket. After retiring at 34, he returned to Sheffield to open a pub but sadly died in 1916 at the age of just 42. This piece in the Burngreave Messenger is worth a read (William is buried in Burngreave cemetery).
---
Things to do
Art: Earthbound, a new exhibition of landscape art at the Millennium Gallery, is now open. The varied works on display include land art, landscape paintings, video installation, sculpture and photography. A Facebook Live tour will take place on Wednesday, August 11.
Nature: Once polluted, the man-made 'goit' waterway in Kelham Island is now home to a stunning array of wildlife. On Tuesday, August 10 at 1pm, Dave Buttle from the University of Sheffield will showcase the diverse flora and fauna of this fascinating, beautiful area. Book here.
Music: A rare opportunity to see Bach's Well-tempered Clavier performed in full will take place this Friday, August 13 at the Upper Chapel on Norfolk Street. Music in the Round usually play at the Crucible Theatre but will be hosting five concerts at the chapel over the next two months.
Exhibition: A new exhibition of Sheffield-based artist Zoe Genders' work has opened at the Forum's Artcade Gallery on Division Street. Zoe has recently designed one of the Bears of Sheffield (the one on display in Orchard Square) but this exhibition — Layers — focuses on her beautiful and intricate work with paper.
Food and drink: Originally a cafe and independent businesses workspace, Hagglers' Corner on Queens Road has recently morphed into a really cool restaurant and late bar, while still retaining its bohemian roots. Whether you want to peruse the shops, grab a coffee, eat Indian tapas from The Bhaji Shop or drink and dance, Hagglers has something for everyone.
---