Is Sheffield winning the battle against homelessness?
Plus, the rest of our weekly briefing
Dear readers — welcome to launch week at The Tribune! We are very excited to be opening up our memberships tomorrow and starting our full publishing schedule. Readers who want to help us grow by being founding members of this brand new news organisation, and who want to get all our journalism in their inboxes, can subscribe from tomorrow morning. If you want to read about why I left The Star to start this project, my recent piece about that is here.
This week, everyone on the mailing list will get four newsletters from us, so you can see what it's like. And then next week we will move to our normal publishing schedule, where two of our newsletters (normally on Tuesdays and Thursdays) will be members-only. Starting today we are moving some bits from our Monday briefing (a few recommended reads, things to do and our mini book review) into the Tuesday newsletter, so that's why today's is a little shorter than usual.
Help us out: If you're enjoying our newsletters, please tell your friends about The Tribune by forwarding them this email so they can sign up too. Alternatively, click share below to forward it via text or on social media. More than 4,400 of you have subscribed so far.
If someone forwarded you this newsletter, please join The Tribune's mailing list to get all our journalism in your inbox.
---
We had a great reaction to our weekend read about the return of the Crucible theatre. You can still read that piece here.
---
This week's weather
---
The big story: Is Sheffield winning the battle against homelessness?
Top line: The number of people sleeping rough in Sheffield has risen sharply in the past decade. Experts point to cuts in local authority budgets and individual benefits, and the rise of new drugs like Spice.
A census taken each year of how many people are sleeping rough in Sheffield rose from eight in 2010 to 29 in 2019 — a 263% increase.

More than 50 rough sleepers have also died on the streets of the city over the last seven years, including 15 in 2018 alone.
Covid impact: At the beginning of the pandemic, a central government initiative called 'everyone in' guaranteed everyone living on the streets a place to stay until the end of June 2020.
144 people who were sleeping rough or at risk of sleeping rough in Sheffield were housed in emergency accommodation through the 'everyone in' initiative.

They were provided with basic essentials, food and laundry as well as support on mental and physical health issues.
Housing First: Since 'everyone in' ended, Sheffield City Council has been offering more permanent support to 30 individuals through the Housing First scheme. Housing First was first tried in Sheffield in 2019 with fairly poor results. However, the scheme has provided homelessness services with more information about their clients' needs. This, combined with positive feedback from accommodation providers, is leading to renewed hope that the approach can be made to work.
A missed opportunity? The government has pledged to end rough sleeping by 2024. However, as reported recently in the New Statesman, homelessness and rough sleeping are on the increase again. The recent expiration of the ban on evictions is expected to increase this still further.
The local situation: Daryl Bishop, CEO at Ben's Centre, a charity which supports vulnerable people in Sheffield, says Housing First has clearly helped some people. But he added that a number of shifts taking place in the streets were threatening to increase rough sleeping once again: He told us: 
We're now seeing more young people hanging around having had the run of the city for over a year. It's also expected that there will be a rise in homelessness when tenancy evictions come back in action. And as people are moved from the temporary hostels to the Housing First model, a few may slip out of the system and go their own way.
Analysis: The coronavirus crisis has shown that homelessness and rough sleeping in Sheffield are not insurmountable problems. Housing First is national policy in Canada, where it has been shown to be effective. But Sheffield City Council needs greater resources to help new people who end up on the streets and to tackle the problems that are causing people to become homeless in the first place. 
---
Faunagraphic (📸 2020)
streetartsheffield.com/gallery/faunag…
#Sheffield
#StreetArt
#SheffieldIsSuper
#GraffitiArt
#murals
#SheffieldStreetArt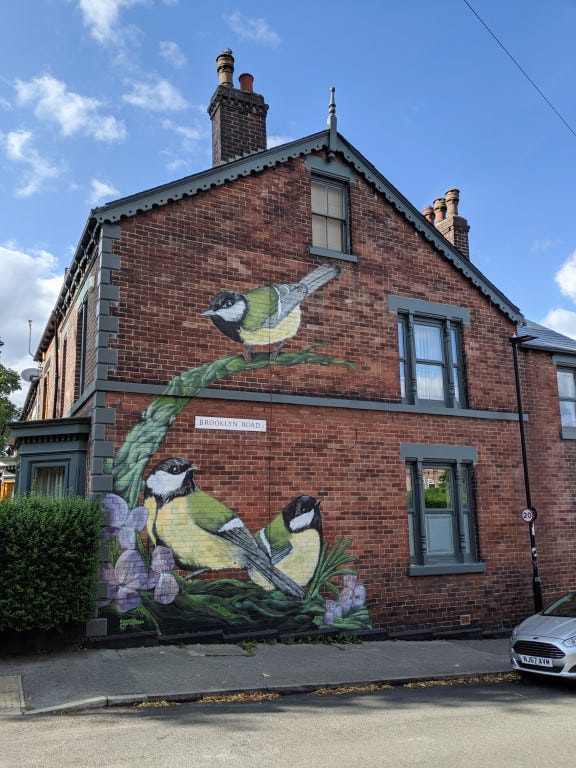 Sheffield has some great street art, much which is documented on the Street Art Sheffield website. This lovely piece is on Brooklyn Road in Meersbrook, very near the community gardens we featured in one of our first weekend reads back in April.
---
Covid-19 update
Cases: The case rate in Sheffield — the number of positive tests per 100,000 population over seven days — is currently 219. This equates to 1,281 cases, up 130% since last week. It is now back above the England rate of 208 for the first time in several weeks. Most of this rise is coming from the younger unvaccinated population but there is also a smaller increase in those aged 60 and above.
Hospitals: The number of patients being treated for Covid-19 fell in the last week from 18 to 12. Of these 12 patients, just two are on ventilation, a rise of 1 from last week. At least three deaths linked to Covid-19 have taken place in Sheffield in the last week.
Vaccines: 625,128 vaccine doses have now been given out in Sheffield, including 363,384 first doses and 261,744 second doses. Just over 50% of those aged 25-29 have now received their first vaccine dose. But city health leaders have been urging people not to forget about their second dose, saying that only with two jabs are you fully protected from the worst effects of coronavirus.
---
Our favourite reads
This wonderful long read, written by friend of The Tribune Lawrie Harvey of the Looking Up Sheffield podcast, tells the tale of how one of the Bears of Sheffield owes its name and artwork to a Beauchief man who believed he was the reincarnation of the Pharaoh Ramases. And it only gets even weirder from there.

My Life in the Mosh of Ghosts is Sheffield music lover Roger Quail's blog of every gig he's ever attended. The latest is a great piece about Kraftwerk's performance at Sheffield City Hall in 1981, but the blog also includes shows by New Order, The Cure and The Human League. Roger also produces a podcast.

A nice piece in the Sheffield Telegraph about a carved oak chimneypiece which had been thought lost after it was removed from Meersbrook Park's Bishop's House in 1885. The stunning fireplace has now been returned to the magnificent Tudor building in time for its reopening to visitors on Sunday, July 4.
There will be more recommended reads in tomorrow's newsletter.
---
Grey to Green
On Friday, I showed The Mill's writer and photographer Dani Cole around Sheffield. She is writing a piece for us about the River Don but here are a couple of photos she took of the 'grey to green' project in Castlegate, which looks absolutely stunning at the moment.
The grey to green scheme began on West Bar near Sheffield Crown Court but has recently been extended to Castlegate. As well as planting, the area is being made bike-friendly, with the Castlegate section said to be one of the best cycle paths in the entire city. It's certainly one of the prettiest.
---
Things to do
Theatre: The Crucible is now open again after being closed for the best part of 16 months due to Covid. The first major production back is the Victoria Wood play Talent, which explores the seedy side of show business. The play runs until July 24 and there is also a live streamed performance on July 7. Check out our weekend read about the play here.
Art: Playground at the Site Gallery is a collection of digital art activities for children aged 5-12 and their families. This year the free event features an augmented reality game which has been designed by children at Wybourn Primary School. Playground is open now and runs until July 11 but pre-booking is essential.
Watch: Thanks to the Sheffield Modernist Twitter page for reminding us of this great documentary about Sheffield from the 1970s. Entitled, Sheffield: City on the move, it has come in for criticism in recent years for its upbeat tone, but it remains a fascinating look at the ambitions of post-war Sheffield.
There will be more Things To Do recommendations in tomorrow's newsletter.
---
Yesterday was the 45th anniversary of The Clash's first ever gig, which took place at the Black Swan on Snig Hill. The venue, which has most recently been called the Boardwalk, also played host to Joe Cocker and was where Arctic Monkeys rehearsed early in their career. A campaign to have it protected as an asset of community value was recently turned down by Sheffield City Council.
---
You're all caught up. See you tomorrow morning for our membership launch!
Trib Trainee: Our first trainee Andy has just accepted a job in journalism, so we have space for a new one. Trainees normally do one day a week with us during their journalism studies, and help out with writing, research, fact-checking and other tasks. If you know someone who might be interested, please ask them to email editor@sheffieldtribune.co.uk in the next couple of weeks.
Get in touch: If you have a story you would like us to look into, hit reply to this email and tell us about it. We're happy to speak off-the-record if it's something you don't want to attach your name to.
If someone forwarded you this newsletter, please join The Tribune's mailing list to get all our journalism in your inbox.